Need a list of interesting but likely inconsequential rumors heard in a city? I've put together a list of 100 of them for you that were created with my DND character rumor generator.
Feel free to use in your Dungeons & Dragons or Pathfinder campaign. Or any other tabletop RPG you might be playing. Here's a quick screenshot of the DND rumor generator over at LitRPG Adventures.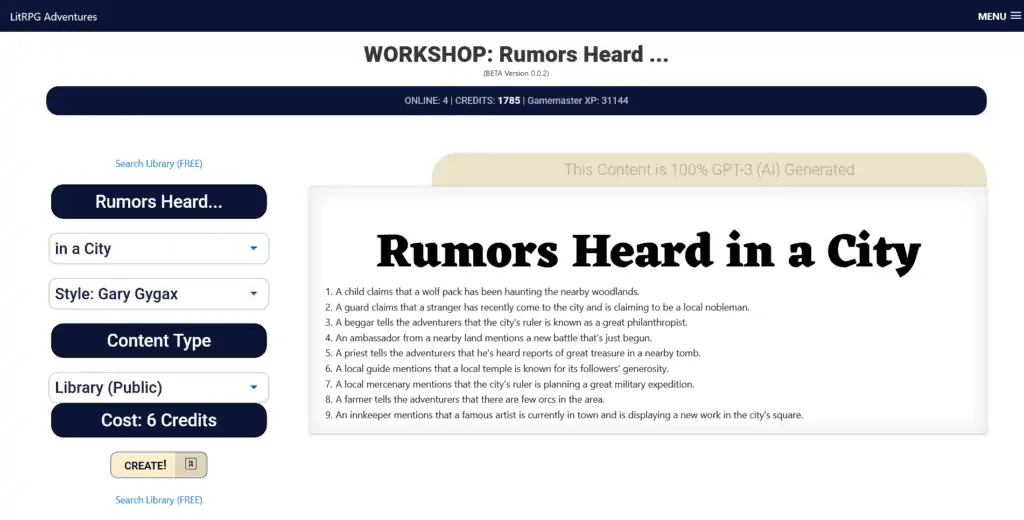 D100 DND Rumors Heard in a City
Here's my list. Enjoy!
A local nobleman is looking for a group of adventurers to travel north and help him retrieve a buried treasure.
A local alchemist is looking for adventurers to help him retrieve an ancient red dragon's hoard of treasure for his experiments.
A group of mages is looking for mercenaries to help them in a diplomatic mission.
A group of barbarians is on the way to settle in the city.
A new scholar has arrived from the east.
A group of adventurers has left a nearby city for the local city.
A group of merchants is on the way to settle in the city.
A famous mage just arrived from the south.
A group of adventurers has just left the city.
The owner of a nearby tavern is hiring someone to clean up an old mine.
You overhear a group of guards discussing a runaway slave.
A group of clerics is asking around for someone to 'serve' them.
An old fisherman is complaining about a group of adventurers.
A group of thieves wants to hire someone to help rob an old manor.
An old man is wondering why so many nobles have been disappearing lately.
A group of guards are talking about the unrest in their city.
An old woman is talking about the rising crime in the city.
The owner of a local inn is considering having a large party for the neighborhood's children.
An assassin from another Kingdom is in the city, plotting to kill the King
A local merchant man has invented a new way of making cheese.
The King has decreed that all children are to be eaten by their parents.
A nobleman is plotting to overthrow the King.
An assassin from another Kingdom is in the city, plotting to kill an important merchant man.
A local nobleman has hired local assassins to kill all of his servants, who are supposedly plotting against him.
The King has decreed that all children are to be eaten by their parents.
An assassin from another Kingdom is in the city, plotting to kill the King.
The King has decreed that all children are to be eaten by their parents.
An NPC tells you that the local barkeep is secretly a paladin
A stranger tells you that a nearby magical forest has been taken over by an evil spirit
A local commoner tells you that he has been hired as a bodyguard for a visiting princess
A commoner in the city square tells you that the innkeeper is hiring bodyguards
A commoner tells you that he has been hired to guard a rich merchant's mansion
A commoner tells you that the local barkeep is hiring bodyguards
A local commoner tells you that the barkeep is hiring any adventurer who wants to fight demons
A thief in town tells you that a local nobleman is planning to seize power
A commoner in the city square tells you that he knows the local barkeep is actually an evil lich.
A passing citizen warns the adventurers that the tax collector is coming.
A passing citizen warns the adventurers that the tax collector is not coming, but the customs officials are.
A passing citizen warns the adventurers that the tax collector is not coming, nor are the customs officials, but the soldiers are.
A passing citizen warns the adventurers that some villages are withholding taxes.
A passing citizen warns the adventurers to keep an eye out for a kidnapping ring that has been snatching children.
A passing citizen warns the adventurers that a notorious highwayman is active in the area.
A passing citizen warns the adventurers that the highwayman is active in the area.
A passing citizen warns the adventurers that there is an open bounty on a notorious highwayman.
A passing citizen warns the adventurers that a local nobleman is actively searching for his missing wife and is offering a large reward for information.
A citizen tells you that the city is holding a feast
A merchant tells you that the city is about to go to war
A traveler tells you about the hostile situation in the neighboring city
A passerby tells you about a new smithy in town
A drunk tells you about a new pub in town
A beggar tells you that there are rumors about a nearby forest
A fisherman says that something stinks in the ocean
A traveler says that it might be better to avoid the haunted forest
A merchant tells you that a new weapon shop has opened in town
Several prominent military officers have turned up dead in the last few months, under mysterious circumstances.
A local nobleman has gone missing.
The city is having trouble supplying the army, and there is rampant theft of food in the city.
A local nobleman is trying to convince a local prince to give him an army to attack a nearby Kingdom.
The city is being governed by a bureaucracy. The Merchant Prince who organized this government is little known outside the city.
The Merchant Prince wants to build a new temple as a sign of wealth.
A local nobleman has been seen practicing magic outside the city walls.
A local nobleman, who is famous for his generosity, is in financial trouble of late.
A band of adventurers just arrived from the east
The innkeeper's dog ate the innkeeper's favorite box of keepsake coins.
Big Bonner is really mad at the innkeeper for spilling a beaker of acid on his favorite boots.
The innkeeper is passing out free beer.
The barmaid has a new boyfriend.
The owner's daughter is throwing a party.
The owner is trying to collect a debt.
The owner isn't too thrilled that the adventurers have settled in.
There's a new party adventure arriving soon.
A rumor about a secret plot to suppress the merchant class
A rumor about a secret plot of the nobility against the commoners
A rumor that some nobles are planning to assassinate the King
A rumor about a local plot to overthrow the government
A rumor that someone is planning to poison the city's water supply
A rumor about a series of local murders
A rumor about a plot of the people against a local tyrant
A rumor about a local nobleman who is trying to plan to overthrow the government
A rumor about a plot to instigate a war.
The local Duke is planning to take a young noblewoman as his wife, but several of the local barmaids are worried about losing their jobs.
A local nobleman is riding north, to a nearby Kingdom, to ask the King for advice on how to deal with a problem.
A local nobleman is setting up a bank, but the rumors are vague.
The city is starting to fill up with rumors of an impending plague.
Several farmers have been complaining, but no one knows why.
A local nobleman is about to go on a long journey, and he's taking a lot of guards with him.
A local nobleman is about to build a new keep.
The Duke is planning to leave the city for a long journey soon, and he plans to be gone until the first of the next year.
Several nobles around the city are visiting the local blacksmith. They are plotting to assassinate the Duke.
The local garrison has been warning the populace to grow their own food.
The local governor is working on a new tax.
The local garrison is planning an assault on an army camped nearby.
A powerful dark mage is operating in the area.
The local garrison commander is being sent to the capital for a court-martial.
The local garrison commander is planning an assault to root out an army of orcs.
The local garrison commander is planning an expedition to gather a dragon's treasure horde.
The local garrison commander is scheming to take over a nearby city.
A foreign nobleman is in town planning a new property development.
A passing citizen mumbles about the King's illegitimate son
A passing citizen mumbles about the King's secret police